for having made it to the end of my little web page. We realize that time is the most valuable commodity, and thank you for having spent some of yours here. Hopefully it has been an enjoyable experience, and you will stop by again soon. We try to add fresh items frequently. Planning a trip to Boston? Sadly we no longer maintain an open shop but I'm always glad to meet a customer at one of Charles Street's many cafés, by appointment, if there's a high ticket item which you'd like to see in...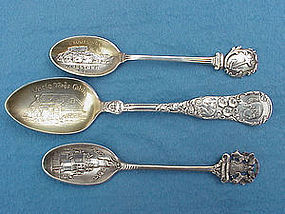 click for details
length 4 7/8", excellent condition, monogrammed "L.S.K. / Sept 15 on '91" on reverse of bowl, weight .58 oz. Troy.
This is an especially fine example of Gorham's casting work. The other items pictured above are sold.