Just shy of two inches in both directions, mass 38 grams, opening for belt is 1.5 inches, some scratches as one might expect in an item that's been worn at waist level for the past sixty years but fine overall condition.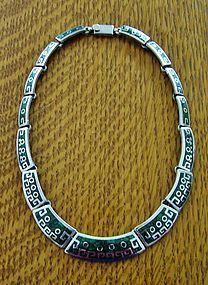 click for details
At the risk of damaging our much vaunted "brand" here at BCAS, let's set aside the pricey designer goods and feature something by nobody, or at very best the 18th silversmith to be registered in Taxco, circa 1979, a great year, I remember it well....
Length 16 3/4 inches, of exceptional weight (2.63 Troy ounces) and quality, in excellent condition with firmly functioning clasp, this is equivalent of anything you'll find by Margot or other well known Mexican designers at a fraction of the ...