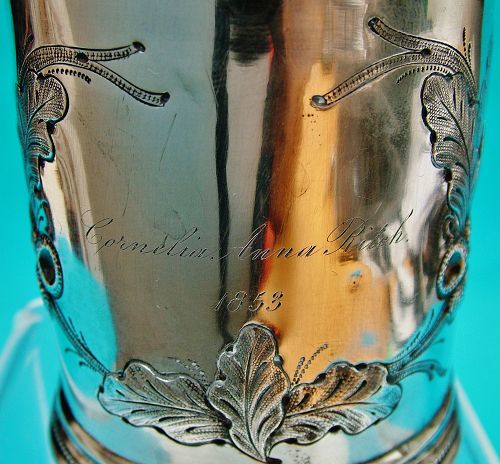 click for details
Cornelia Anna Ritch (1847-1916) may well have been born with a silver spoon in her mouth. We know for sure that at the age of six, she had a fine looking coin silver cup in her hand.
Her great great great grandfather, Henry Ritch, was among the original settlers of Greenwich, CT, having received a grant of three acres there on May 19th, 1686...
luncheon fork and teaspoon, lengths 7 3/4, 7 1/8, 7 1/4 and 6 inches respectively, weight 5.34 oz. Troy, all monogrammed "Ralph Chandler" script obverse. For those who have interest in such matters, Ralph Chandler served as Master Lieutenant on the sloop Vandalia, and saw action on her in the Civil War battle of Port Royal...