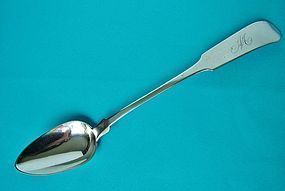 click for details
New York circa 1825, length 12 1/2 inches, weight 4.52 Troy ounces, monogrammed "M" in period script with flourishes. There is a slight abrasion above the initial, and some very minor scratches in bowl as shown in enlargements three and four but the overall condition is outstanding.
Maltby Pelletreau was the second generation of this illustrious silversmithing family. His partnership with Bennett and Cook lasted only three years, so the date range for this item is pleasantly narrow...

click for details
length 12 3/4 inches, weight 5.65 Troy ounces, excellent original condition, monogrammed "M" (period script with flourishes) obverse, retailed by Bailey and Kitchen.
While the dates for this firm are generally given as 1837-1850, the style and construction of this spoon is would tend to indicate that it was made several years before 1837...