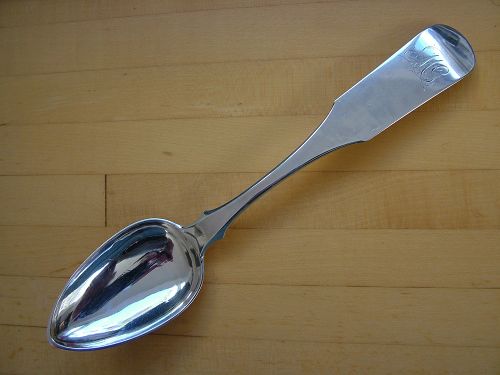 click for details
with short back midrid (a/k/a reverse fiddle tip't), pointed chamfered shoulders and a pronounced "flat" at leading edge, length 9 inches, weight 2.23 Troy ounces, monogrammed as shown. There is a small imperfection on back of bowl (see third photo) but otherwise fine condition.
We often speak of the "hallmarks" on American silver, but it is worth noting that very few pieces are actually hallmarked. This one bears the Baltimore assay office stamps commonly associated with 1824.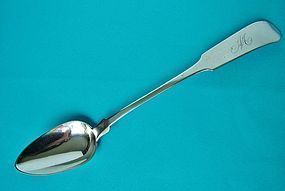 click for details
New York circa 1825, length 12 1/2 inches, weight 4.52 Troy ounces, monogrammed "M" in period script with flourishes. There is a slight abrasion above the initial, and some very minor scratches in bowl as shown in enlargements three and four but the overall condition is outstanding.
Maltby Pelletreau was the second generation of this illustrious silversmithing family. His partnership with Bennett and Cook lasted only three years, so the date range for this item is pleasantly narrow...