WHETHER YOU COLLECT HULL POTTERY OR JUST COLLECT REFERENCE BOOKS, THIS WOULD BE A WONDERFUL ADDITION TO YOUR COLLECTION. REFERENCE BOOK HAS HISTORY OF HULL POTTERY AND WONDERFUL COLOR PAGES SHOWING THE DIFFERENT LINES. MEASURES 11" LONG, 8 1/2" WIDE, BOOK HAS 26 PAGES AND 2 PAGES FOR NOTES. COPYRIGHT DATE IS 1974. HAS BEEN VERY PAMPERED -- NO MARKS, TEARS -- ACTUALLY WOULD BE GRADED NEAR MINT TO MINT CONDITION...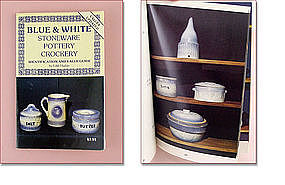 click for details
I am listing this as a used book but it actually appears to have never been used – at all!

There is some wear/storage evidence on front and back covers but when you open the book, it is obvious the pages have never been viewed (I had to hold it open to obtain a photo of a sample page).

This is not a hardback book and the pages are glued to the "spine" and that crispness of opening makes it obvious this book has just been on a shelf all these years...