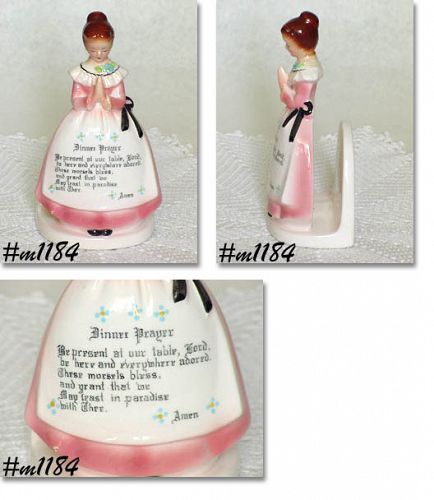 click for details
This is another very nice Enesco kitchen prayer lady item -- a napkin holder!

Prayer lady wears a pink dress and white apron with dinner prayer: "Be Present At Our Table, Lord, Be Here And Everywhere Adored. These Morsels Bless, And Grant That We may Feast In Paradise with Thee...
THIS LISTING HAS 4 LITTLE SHOES, VERY COLLECTIBLE AND VERY PRETTY! FIRST IS A LUSTRE ONE WITH A VERY DETAILED APPLIED ROSE, HAS OTHER PAINTED FLOWERS AND LEAVES, MEASURES 3 3/4" LONG, STAMPED ON BOTTOM: MADE IN JAPAN. GREAT SHAPE -- HAS A 1/8" SLICE TYPE CHIP ON UNDERNEATH OF A ROSE PETAL. SECOND ONE IS A WHITE (1 1/8") HEEL (PUMP). HAS GOLD COLOR BOW AND REMNANTS OF 2 PAINTED GREEN FLOWERS -- COLD PAINTED AND SHOW EVIDENCE OF WASHING. SHOE IS UNMARKED AND IS IN EXCELLENT CONDITION...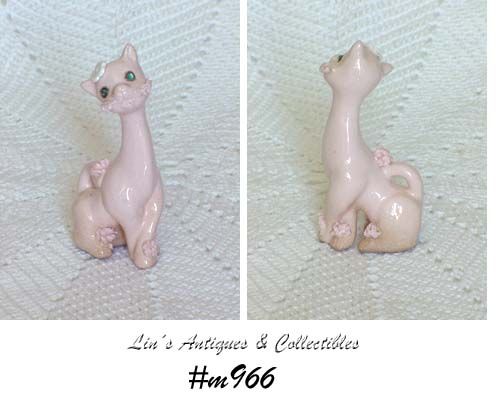 click for details
VERY PRETTY LITTLE SPAGHETTI CAT! DAINTY LITTLE PINK CAT MEASURES 3 5/16" TALL (AT TALLEST).

SHE HAS SPAGHETTI WHISKERS, SPAGHETTI ON EACH FOOT AND ON HER TAIL. SHE HAS A LITTLE WHITE FLOWER ON HER HEAD AND HAS BLUE/GREEN RHINESTONE EYES!

IN GREAT CONDITION -- HAS MINOR CRAZING AT BASE -- THAT'S IT!

LITTLE CAT IS AN UNMARKED KREISS PRODUCTION AND I WOULD SURMISE THAT ONE TIME, SHE WAS PART OF A KREISS SPAGHETTI FAMILY (MAMA AND TWO BABIES).