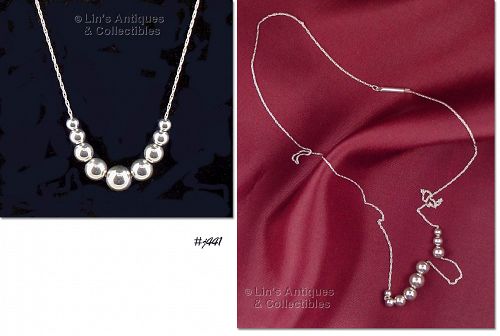 click for details
Very pretty necklace with simple styling that looks equally lovely with a sweater or a black dress!

Sterling chain measures 24" long and it has 9 sterling beads.

Lovely!

click for details
This is a great pin with lots of detail! It is shaped like an opened hand-held fan, measures 2 ½" x 1 ¼" and is marked Sterling. Simply lovely!

Please note: the pin is not tarnished or discolored in any way -- it's so shiny that it picked up reflections when taking photos.
Have a favorite bookworm on your Christmas gift list? If so, this item is perfect for that person! It's a silverplate corner bookmark, still in the original box, and can be engraved by your local jeweler. Nice!