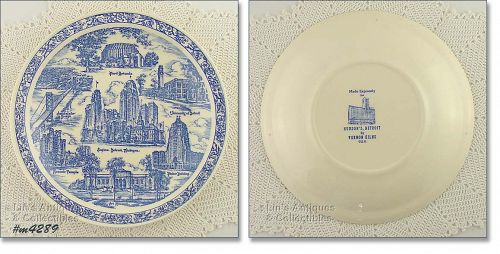 click for details
This is an excellent condition collectible souvenir plate -- it's for Detroit, MI and was made by Vernon Kilns.

Plate was an advertising/store give-a-way for Hudson's of Detroit. It measures 10 ¼" diameter – a super collectible!
Another excellent condition souvenir plate! Produced by Vernon Kilns and was an advertising/promotional item from P.A. Bergner & Co. Per back of plate, P.A. Bergner & Co. was the "Treasure Chest of the Middle West". Plate measures 10 ¼" diameter. Super collectible item!
Excellent condition souvenir plate for Pennsylvania! Plate was designed by Vernon Kilns, U.S.A. It is very decorative with lots of attention to detail. Back of plate has state information. Measures 10 ¼" diameter and is a neat collectible!