I purchased these dinnerware items at an estate sale and the boxes had never been opened! Handwritten on box tops "new in box" and so they were – I opened prior to purchase to be certain none of the pieces were damaged and found them to be in absolutely mint condition! Even though the boxes state "Moderntone Tableware" they are in fact Ovide (no horizontal ribs) in Moderntone colors. Per box, each contains a 12 piece starter set – 4 cups, 4 saucers, and 4 dinner plates...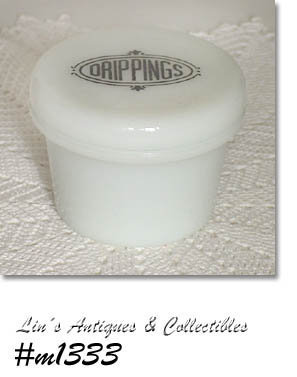 click for details
This is a very nice item and a difficult find! It is a "Drippings" jar made by Hazel Atlas.

Jar measures 3" tall, 3 3/4" diameter. It's white glass and has the word "DRIPPINGS" in black.

Great condition -- no chips, no cracks!