This is a neat and useful item – an electric ice crusher! Made by Rival, crusher works great. It has an on/off switch/button on back and is in super condition.
Neat "How To" book for Sears Roebuck ColdSpot freezers! Book has instructions on how to care for your freezer, to prepare food for freezing, to freeze and store foods, and to thaw and prepare foods for the table. Interesting!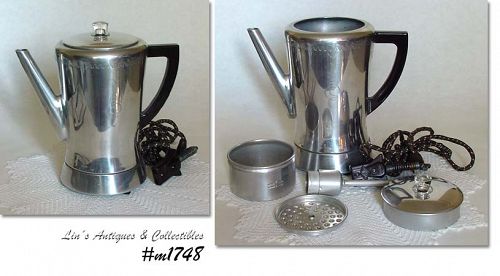 click for details
Wow – it's been a while since I've seen this type percolator in this wonderful condition! This is the 8-cup size, made by Westbend, and per bottom, it's the "flavo-matic" style.

It's in excellent condition with a few scratches that I would say occurred during storage, not from "use". All parts are present and the handle and little "feet" test as bakelite.

Pot works great! Obviously used very little, even the cord looks new. Super item!