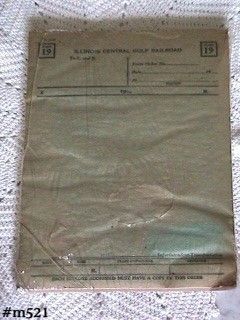 click for details
These vintage railroad forms are in the original plastic wrapper!

There is a date at top of form -- FC 11-47 and form reads: "Illinois Central Gulf Railroad, Form 19, To C. and E., Train Order No." etc.

Bottom shows headings: "MADE., TIME, TRAIN DISPTCHER, OPERATOR" with boxes underneath each heading to be filled in. Below that "EACH EMPLOYEE ADDRESSED MUST HAVE A COPY OF THIS ORDER."

The forms appear to be non-carbon...