VERY PRETTY INDIVIDUAL SIZE SERVING DISH FROM MCCOY'S ISLANDER LINE OF 1979. DISH IS SHAPED LIKE A HALF SHELL AND MEASURES 5" LONG, 5 1/2" AT WIDEST POINT, AND 2" TALL. THERE IS 1 SUPER TINY "DING" OR NON-GLAZE (I COULDN'T BE CERTAIN) ON EDGE AND 1 MANUFACTURING STRESS (LESS THAN 1/4") ON 1 SIDE EDGE...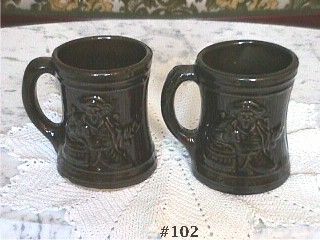 click for details
This listing has a set of 2 Buccaneer mugs by McCoy!

Made in 1926, these mugs are stoneware green color and are in excellent condition. They have no chips, no dings, no cracks -- difficult to find in this excellent condition!