These little angel vases are so cute! Measure 3 5/8" tall and bottoms are marked with a red clover inside a wreath (Japan). The attention to detail on their faces is outstanding! Both vases are in excellent condition.
BEAUTIFUL PAIR OF VASES BY PURINTON POTTERY COMPANY! BOTH ARE A SOFT, CREAMY COLOR WITH SHINY GLAZE AND HAVE PATTERNS IN MAUVE, TEAL AND BROWN. ONE VASE HAS FLOWERS, THE OTHER HAS A LIMB (LIKE A PUSSY WILLOW). MEASURE 6" TALL. VASES ARE IN EXCELLENT CONDITION -- ONE HAS A COUPLE TINY DINGS ON DRY RING, BOTH HAVE MINOR CRAZING (NOT UNUSUAL FOR THIS COLOR/GLAZE). THESE ARE SUPER VASES WITH SHAPE AND COLORS THAT COMPLEMENT ANY DECOR. EXCEPTIONAL!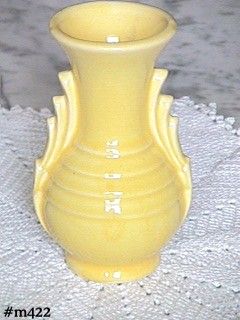 click for details
This listing has an unmarked vase!

Little vase measures 4 1/2" tall and 2 1/4" diameter at top. It is in excellent condition and is a beautiful sunny yellow color.

It is very attractively styled -- it has "ribbing" on middle portion and two little "handles" that are feathered or layered and are, in fact part of the vase body.

This is a beautiful bud vase!!