click for details
You know the glass blocks that are used in construction? This is just like those except it has an oval opening in the top. Made from heavy optical glass, it measures 5 1/2" x 5 1/2" x 3 3/4". The inside ribs on front and back are horizontal and the outside ribs are vertical giving it a checkerboard appearance. Could be used as a vase, container or fish bowl. In very good condition with one very tiny fleabite on one edge. There is some roughness from the mold edges.
Weight is 4 lb...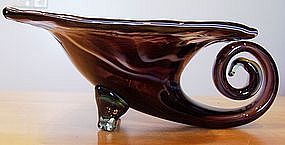 click for details
MARIGOLD GLASSWARE
Hand-Blown Glass Cornucopia
Swirls of dark brown, white and clear glass were blown to form a footed cornucopia with a square-shaped mouth.
It measures 10 1/4" long x 9" wide x 4 3/4" high.
This piece is very heavy and weighs 3 1/2 pounds.
One label reads: "Marigold Glassware" -see photo.
The other label reads: ARTIST POINT, Gifts - Museum, Artist Point Mt., Mountainburg, Ark.
To calculate shipping, weight is 3 lbs. 12 oz...