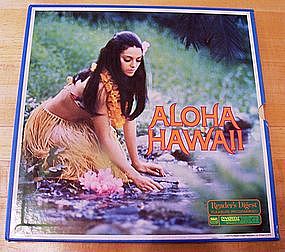 click for details
ALOHA HAWAII is a 6 Record Set in individual sleeves inside a box, inside a pictured cover box made by RCA for Reader's Digest in 1978.
Record One
Side One: 'Aloha Means Hello', 'Just Say Aloha', 'To You, Sweetheart, Aloha', 'Aloha Hawaii', 'Hello, Hawaii, How Are You?', 'An Old Hawaiian Custom'
Side Two: 'Sweet Leilani', 'Lovely Lotus Flower', 'My Lovely Lei', 'Orchid Lei', 'Pua Hala', 'Pretty Red Hibiscus'.
Record Two
Side One: 'It Happened on the Island of Ha...