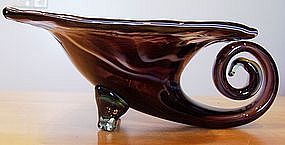 click for details
MARIGOLD GLASSWARE
Hand-Blown Glass Cornucopia
Swirls of dark brown, white and clear glass were blown to form a footed cornucopia with a square-shaped mouth.
It measures 10 1/4" long x 9" wide x 4 3/4" high.
This piece is very heavy and weighs 3 1/2 pounds.
One label reads: "Marigold Glassware" -see photo.
The other label reads: ARTIST POINT, Gifts - Museum, Artist Point Mt., Mountainburg, Ark.
To calculate shipping, weight is 3 lbs. 12 oz...