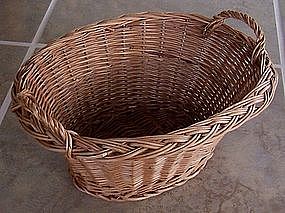 click for details
Let's play house! with this unique vintage wicker child's laundry basket. Measuring 15" long x 11 1/2" wide by 6" high, this tightly woven basket is perfect for little ones to help Mom do the washing or to use for a bed for their dolly
In very good condition.
Weight is 1 lb. 4 oz. Use USPS link on my HOME page to calculate priority mail postage from zip code 43570 to your zip code. If other form of shipping is desired, please email with preference and zip code.

click for details
This is an Original Cress Educational Board made in 1925. This version is is oval-shaped, measures 9 1/2" x 13" and has 40 wood tiles. (Earlier versions were round.) One side had letter tiles and the other side has numbers and mathematical symbols (+, -, x, and the division sign). The tiles can be moved around the tracks to form words or math problems. Paper over plywood with metal brackets. Shows wear but still in good condition.
Weight is 1 lb. 8 oz...