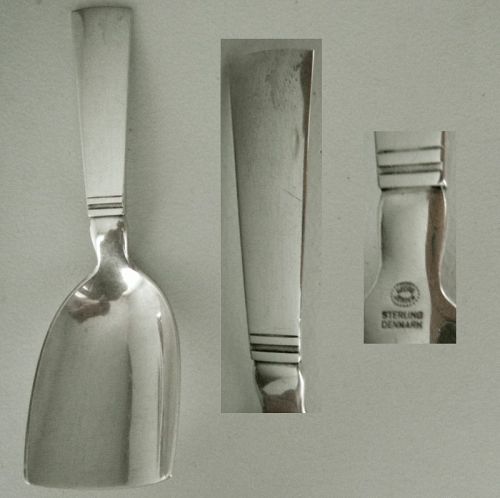 click for details
The design on this piece is variously identified as "Acadia" or "Blok," or sometimes combined, with or without a hyphen.
The pattern was introduced in 1934 (one source offers 1931), although the mark on this 4 1/8" long, substantial weight, .8 T. oz. tea caddy spoon, "Georg Jensen in an oval of dots" over "Sterling" and "Denmark," was used from 1945 onward, so it dates between then and the 1970s when production was discontinued...

click for details
Old Friends
$165.00
Price for the set of four. Two sets available.
Issued in 1931, Gorham's "Shamrock V" pattern is totally emblematic of Art Deco style. It is the equivalent in silver flatware of what the contemporaneous Chrysler Building in New York is in architecture, namely the very embodiment of the mode.
This place setting is comprised of four pieces, including a 7 1/8" fork, a 6 3/8" salad or pastry fork, a 6 3/4" dessert or oval soup spoon, and a 5 5/8" teaspoon.
A weighty line, the four pieces combined weigh 5.2 T. oz...