click for details
Standing 2 7/8" high, this tapered wall beaker has a top span of 3 1/4", a base diameter of 2 3/8", and weighs 3.6 T. oz.
It is hallmarked for sterling silver, London, 1902, and maker Henry Wilkinson & Co. Ltd., which firm is identified in Jackson' Hallmarks as an "important manufacturer."
It has applied, lined banding on the top and bottom edges and is otherwise plain, and has never been monogrammed or inscribed.
Comfortable in the hand, this remains in very good condition...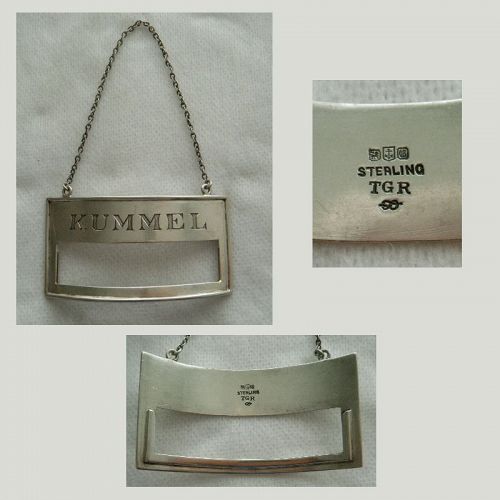 click for details
This liquor tag was produced by Gorham in 1910, stamped on the reverse with the company "lion, anchor, G" emblem, a date symbol for the year, the word "Sterling," and the letters "TGR," indicating this is special order (or sample) item.
It is an unusual piece in several regards.
First is the above noted fact that, as a special order, it is essentially one of a kind, or few at most...