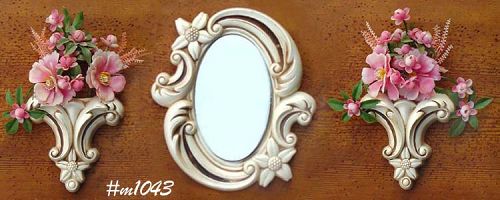 click for details
This is an unusual chalkware set from Miller Studios -- it's a mirror with 2 wall pockets!

Dated 1967, they are a soft white color with gold and brown antiquing/accents.

Mirror measures 10 1/2" long, 9 1/2" wide (at widest).

The matching wall pockets measure 5" long, 5" wide (at top) and they have the original pink plastic flowers in them!

Set is in excellent condition with a small ding on one wall pocket that is not detrimental in any way...