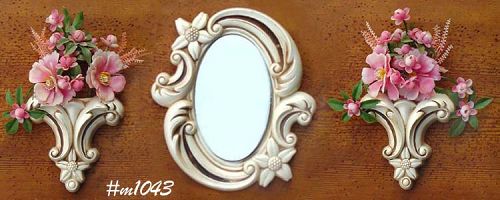 click for details
This is an unusual chalkware set from Miller Studios -- it's a mirror with 2 wall pockets!

Dated 1967, they are a soft white color with gold and brown antiquing/accents.

Mirror measures 10 1/2" long, 9 1/2" wide (at widest).

The matching wall pockets measure 5" long, 5" wide (at top) and they have the original pink plastic flowers in them!

Set is in excellent condition with a small ding on one wall pocket that is not detrimental in any way...

click for details
This little bunny couple is so cute! They are chalkware figures (wall plaques) made by Miller Studios and are dated 1981.

Boy bunny is holding a bright orange carrot, girl is holding a bouquet of flowers. They measure 5 3/4" tall (at tallest) and both are very colorful.

Mint condition and from my chalkware collection.