click for details
This is an unusual bracelet with lots of detail and is very eye-catching!

It measures 7 1/4" in length and has a slide/lock closure. It is made of 8 hinged pieces with each piece measuring 3/4" x 1". These pieces are detailed with abalone shell -- alternating whole/solid abalone with "carved" abalone Aztec/Mayan faces. The shells do not have any damage, what is showing in photo that may appear as damage is simply variance in shell coloring...
This listing has a gorgeous silver grape cluster pin/pendant! It measures 1 ¾" long (at longest), 1 ½" wide (at widest), and is marked 925, Mexico. Excellent condition!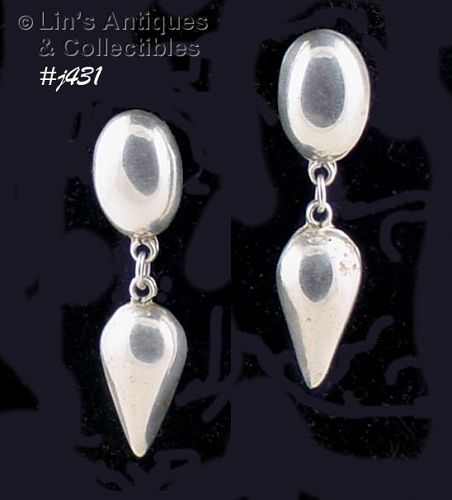 click for details
These silver earrings are simply gorgeous!

Stamped on back: 925, TA (I'm not certain it's an A), 86, Mexico.

They're pierced style (post) with an attached silver dangle and measure 2" long.

Thank you for visiting Lin's Antiques at Cyberattic!