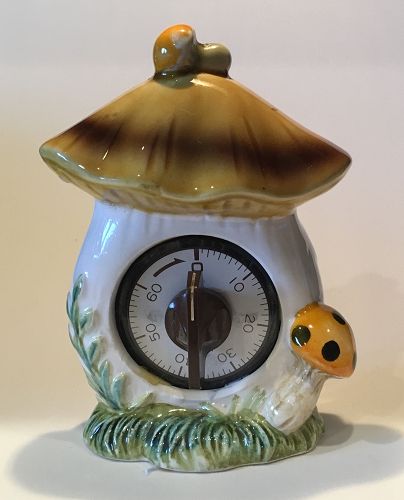 click for details
*** SOLD ***
Mid Century Collectible 1 Hour White Faced Mushroom Kitchen Timer for 1976.
DESCRIPTION: Merry Mushrooms was the Popular pattern between 1970 -1985. These Mushrooms were a sign of the times. Greens, Brown and Orange were the in Colors. Merry Mushrooms were everywhere and most kitchens in the US had at least one some somewhere...
Great for chopping walnuts on your favorite dessert. Measuring cup measures in teaspoons or tablespoons Measured contents can be poured directly from the measuring cup by sliding the top to reveal the open hole or the cup can be removed from the top MAKER​: Federal Tool Corp. Chicago (embossed on the base) other markings "A" in a circle and the number "1" MEASURES​: 7.5" tall with measuring cup; 5.25" tall without measuring cup X 3" base...