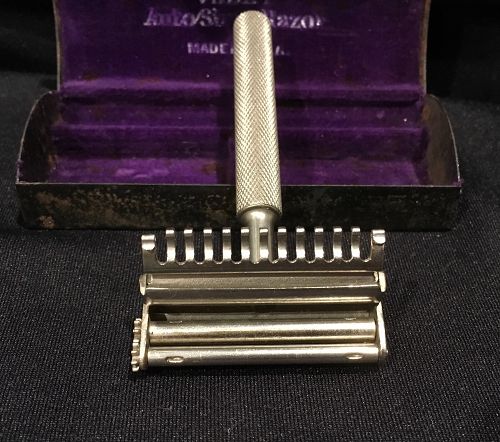 click for details
Auto Strop Early 1900 Razor with Original Box
DESCRIPTION: Razor is in very good condition. Original metal case. No blade safe or blades. Case is 1-1/2" X 2" X 4-1/4". It is about 3 1/2" high and accepts single edged Valet brand razor blades.
STATUS: Has patent date of 1912.
MAKER: Valet Auto Strop
MEASURES: Case is 1-1/2" X 2" X 4-1/4".
CONDITION: Pre Owned Vintage Working Condition...

click for details
~ Rare ~ Discontinued ~ Hard to Find Spark By Liz Claiborne fragrance ~
DESCRIPTION:This is 3.4 fl. oz. Bottle which is over 50% full, Sprayer works and Cap is included. Eau de Toilette or Eau de Parfum? The difference lies in the volume of perfume oil. While Eau de Toilette contains 5-9%, Eau de Parfum contains more, usually 8-14%. Eau de Parfums therefore last longer and smell more intense...