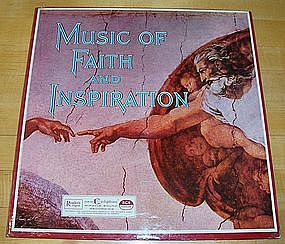 click for details
MUSIC OF FAITH AND INSPIRATION
Three records in individual sleeves inside a pictured cover folder-box made by RCA for Reader's Digest in 1965.
Record One
Side 1: Somebody Bigger that You and I, Kol Nidre, I Need Thee Every Hour, Battle Hymn of the Republic, Nobody Knows the Trouble I've Seen, You'll Never Walk Alone.
Side 2: Holy Holy Holy, From Greenland's Icy Mountains, Nearer My God To Thee, Holy God We Praise Thy Name, Swing Low Sweet Chariot, May the Good Lord Bless and Keep You...

click for details
Golden Dreams Porcelain Music Box
Handpainted raised design on lid shows a boy and girl picking flowers in a field. Music box mechanism is in lid and plays 'You are the sunshine of my life' when lid is turned over. Bottom part of the box is muted shades of blue.
Bottom reads: Source of Fine Collectibles, Avon 1985, Golden Dreams, Porcelain Music Box, Handpainted.
Using USPS link, calculate priority mail from zip code 43570 to your zip code. Weight is 1 lb. 4 oz.